About GetMoney.com
A trusted source for online loans since 2003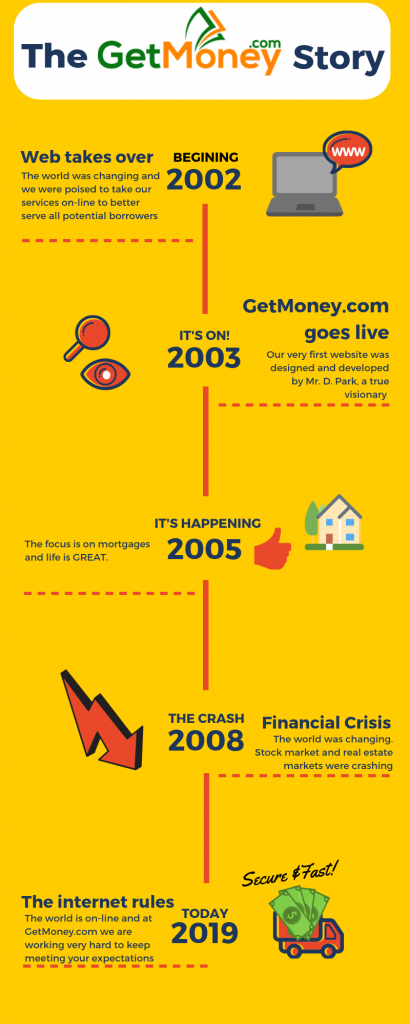 What we do
We simplify the loan process by offering simple forms that are secure and easy to follow. All loan requests are free of charge, hassle-free, and tailored to get you the loan you want in as little time as possible.

Our services
Personal loans which include unsecured personal loans, payday loans and installment loans.
Business loans, business lines of credit, working capital term loans, merchant cash advances, PO financing, equipment financing and more.
Mortgages include jumbo loans, conventional loans, FHA and VA loans for home purchase, refinancing and cashing out equity.
Leadership
The executives, associates, and advisers have all gone through the ups and downs of life, experienced financial hardship, business frustrations, and economic downturns. Thus, at GetMoney.com, we are focused on simplifying the process to reduce some of the unnecessary stresses of getting a loan.
Our CEO
Got started in the financial industry with Morgan Stanley back in the '90s. Having experienced the ups and downs of the economic and real estate markets in 2000 and 2008, has prepared him for leading GetMoney.com.
Our Focus
We understand situations change, and people have different needs at different times. Thus, we are focused on providing a better experience for everyone who needs money to grow a business, buy a house, or meet financial obligations.
Our History
GetMoney.com went live in 2003 by taking online mortgage and auto loan applications. Today our focus is serving people in need of an alternative to banks and traditional lenders for business loans, fast personal loans, and mortgages.